Get Better Physiotherapy Centre
Garima Bharti - Director and Principal Physiotherapist 
Garima is the founder and Principal Physiotherapist of Get Better Physiotherapy Centres. She is a member of the Australian Physiotherapy Association. Her experience has been in private practice treating Musculoskeletal and Sports injuries. She came to Australia in 2006 to get her Physiotherapy license. After working for a while, Garima noticed a lack of high quality treatment. There was no emphasis on hands on Physiotherapy. Furthermore, there was lack of awareness among the general population. Most patients were well aware of chiropractors. However, had never even heard of Physiotherapy!
Garima strongly believes that Physio should be hands on. Her aim is to get the patients better quicker and educate them regarding the benefits of Physio.  As a result, Get Better Physiotherapy Centre was established.  Garima uses techniques such as joint mobilizations with massage. Her interests lie in the treatment of spinal disc related conditions.
Luis Fajardo - Business Manager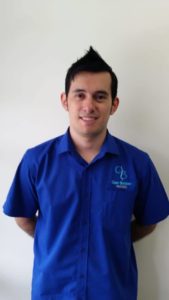 Luis is part owner of Get Better Physiotherapy Centres. First of all he came to Australia to study English . His interest in medicine lead him to work as a health professional.  He worked as a Physiotherapy assistant in the aged care sector. This helped him to learn about patient care and various health conditions. Because of his thirst for knowledge , he started studying certificate courses in Physiotherapy assistant. Subsequently continuing with Nursing. Having a nursing background has given him knowledge about the health care system. In addition to that, it has also educated Luis about managing a clinic. 
His polite nature makes him great at dealing with people. He is able to understand their viewpoint. Hence, he is able to provide them with the best service. Furthermore, his ability to understand the team makes him great at  decisions making. 
Marcin Lisewski Practice Manager/Senior Physiotherapist - Browns Plains
Marcin is our Practice Manager and Senior Physiotherapist at Get Better Physiotherapy Centre, Browns Plains. He is a member of the Australian Physiotherapy Association . He has over eight years of experience in aged care and private practice. Although Marcin was fully qualified in Poland, he came to Australia to study Physiotherapy . While he was studying he worked as a massage therapist. This gave him better understanding of muscular issues. Furthermore , he attended various workshops to expand his knowledge. His interests lie in the treatment of headaches and shoulder pain. He is a great team player who is extremely adaptable. Additionally being organised helps him work well under pressure. At Get Better Physiotherapy, Marcin helps to train other Physios. As well as educating them , he also attends regular workshops himself. This is to stay up to date with the latest advances in treatment. He not only shares his knowledge with therapists but also his patients.  
Haider Tirmizey - Physiotherapist - Browns Plains
Haider graduated from The University of Queensland with a Masters of Physiotherapy Studies after earning an Honours Bachelor's degree in Kinesiology and Health Sciences from York University. Haider's academic background and training have provided him with an excellent understanding of the human body and its movement.
Haider has experience in dealing with sports injuries especially with rugby and soccer teams in Brisbane. He has worked with teams in treating acute joint and muscle injuries sustained during sports such as ankle sprains, hamstring muscle strains and knee ligament injuries. His interests also lie in the treatment of chronic conditions that develop overtime such as headaches and lower back pain due to office work or repetitive lifting at work.
To continue his professional development, Haider plans to undergo training in Dry Needling and Manual Therapy courses. Haider enjoys watching and playing various sports, but basketball is where his passion lies. You can find him at your local basketball courts playing pick-up in his free time.
Kelvin Phillip - Physiotherapist - Browns Plains
Kelvin is a physiotherapist after completing his Masters from The University of Queensland. Prior to this he was a Certified Exercise Physiologist and Personal Trainer, having attained an Honours Bachelor's degree in Kinesiology with a certificate in Fitness Assessment and Exercise Counselling from York University in Canada. In this setting, Kelvin has worked with a variety of individuals from people with chronic conditions such as diabetes and hypertension to firefighters and the world's top hockey prospects at the NHL combine. Having this background has led to Kelvin's belief in a holistic approach in treating his patients.
Kelvin has worked as sports trainer and first aider for a number of sporting teams and events throughout the Brisbane area. This provided him the opportunity to gain experience in acute injury management. While Kelvin thoroughly enjoys working with athletes, his special interests lie in treating people suffering from more chronic conditions such as low back pain and neck pain.
To further his current skill set, Kelvin plans to undertake a course in Dry Needling and further courses to improve his hands-on abilities. Outside of work, Kelvin enjoys playing basketball and going to the gym and is currently trying to learn to play guitar.
Daniel Chan Moy Fat - Exercise Physiologist  
Daniel is a hard working individual with a degree in Exercise and Sports Science. Although he was working as an engineer he was interested in fitness. Hence, he studied a certificate course in personal training. Because of his interest in the health industry, Dan decided to be a health professional. Therefore, he started studying Exercise science. While he was studying he also worked in odd jobs learning the importance of team work.
At present, Dan designs effective programs for people depending on their fitness levels. He understands patient's goals and makes the exercises easy to follow. In particular his enthusiasm to learn more is commendable. Daniel is skilled in helping people especially with  joint injuries and muscle strengthening. Daniel is fluent in English and French! He is also currently learning Korean.
Find out more about Exercise Physiology and What is involved in the sessions?
Masami Harukawa - Remedial Massage Therapist, Browns Plains
Masami is a fully qualified Remedial Massage Therapist. To begin with she started working with Get Better Physiotherapy in 2014. Because of her passion to get people pain free , Masami changed careers. She went from an office job to being a massage therapist. She wanted to get a better understanding of how human body works.
Masami is great at treating muscular aches and pains. She uses different massage techniques like Swedish or trigger pointing. Especially using dry needling for muscle relaxation. In addition to that,  she is also skilled with pregnancy massages. Taking utmost care to ensure that the women are comfortable during the massage. As well as doing the above, Masami has a certificate in lymph drainage.
Presently being a therapist at Get Better Physiotherapy, Masami works alongside Physios. Because of this she has a better understanding of patient's injury. Masami is covered by all Private Health Funds which can be claimed on the spot through HICAPS.